Chizara and Tyler's DoubleTree Roswell wedding reception
Our college sweethearts tied the knot at their church home, and then celebrated their Wedding at the Doubletree in Roswell with family and friends.  As she entered the church Chizara looked stunning in a fitted, strapless, mermaid-style wedding gown. The bejeweled sweetheart neckline then flared at the knees into a foam of ruffles. Accentuating her beauty and moving Tyler to tears. He told us how he felt on seeing his bride walking into the church. "I thought she was so beautiful walking down the aisle. I couldn't take my eyes off of her." As Chizara entered the sanctuary at Atlanta North Seventh Day Adventist Church buttressed by her parents on either side, she looked up at her soon to be husband. She was nervous, excited, scared and super happy at the same time. She said "I started tearing up mid-way because I couldn't believe the wedding was actually happening."
Atlanta Falcons, Dallas Cowboys and a Viola?
This was a classic wedding filled with memorable moments. Like the groomsmen pranking the groom, decorating his car with soap, shaving foam and toilet paper. Imagine the Atlanta Falcons logo painted on the grooms car's rear window. He is a Cowboys fan. That was payback for the groom giving his groomsmen those baseball caps as a wedding gift. Others were moving such as when music filled the church as Chizara's sister played 'Give Thanks' on the viola. The song is a favorite of the couple and Chizara has frequently played it on the violin at weddings. Now it was her turn to be serenaded. The performance was a special gift and the song expressed in music the overwhelming emotions the couple was feeling.
The wedding colors–plum, silver, and black–were a common thread in the attire chosen for the bridesmaids, groomsmen, the bride's flowers, and the decor, adding to the elegant and timeless atmosphere.
After the wedding ceremony, the couple paused to could capture some photos on the Atlanta North SDA Church's beautiful staircase. It proved to be a wonderfully romantic backdrop, complementing the joy the couple felt as they took some of their first images together as man and wife.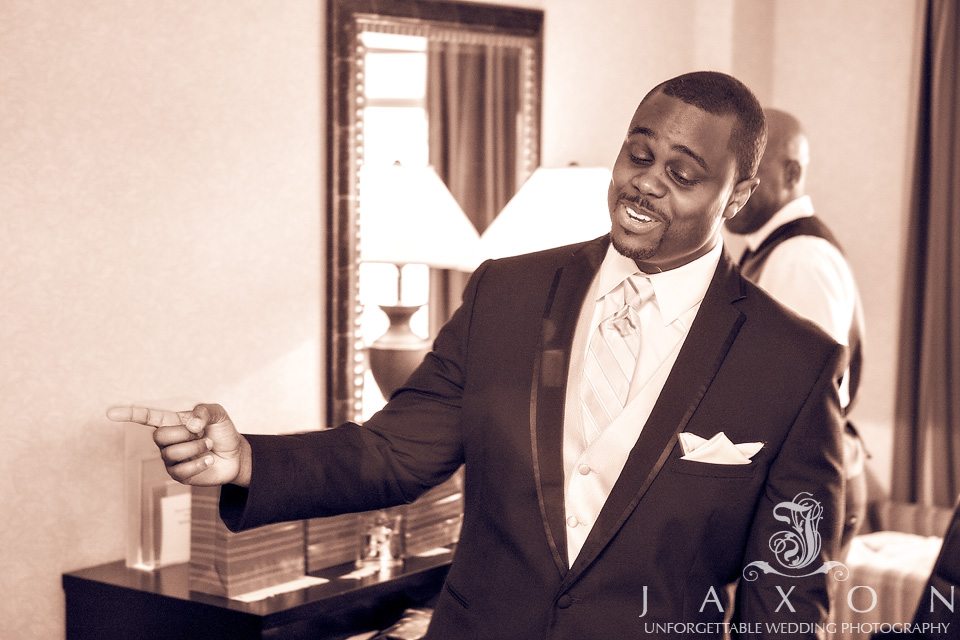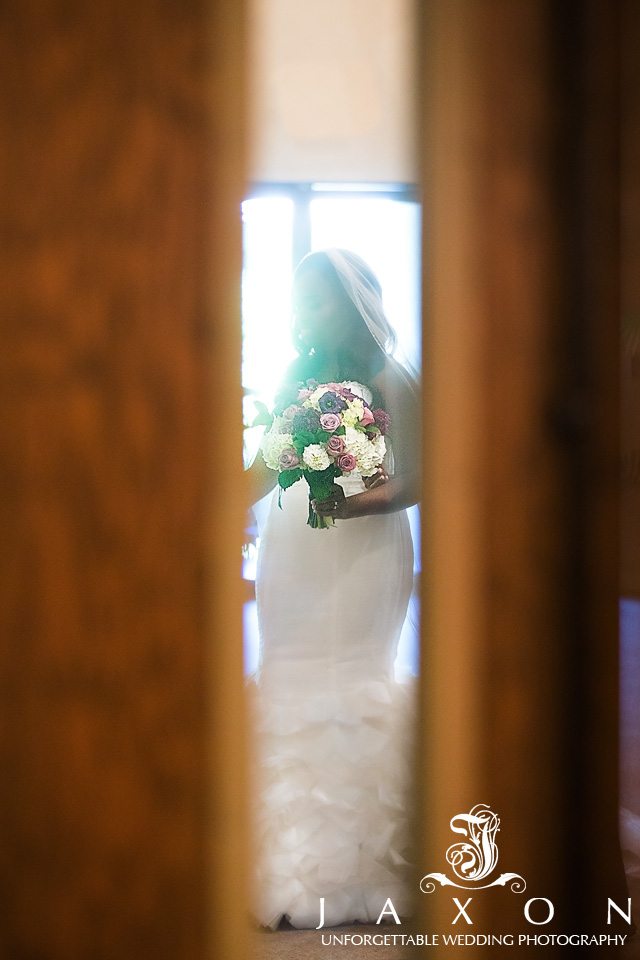 DoubleTree Reception and Babyface?
The Roswell Double Tree Hotel played host the couple's elegant wedding reception. Guests snacked on hor d'oeurves (spanokopita and chicken tenders) and had fun at the photo-booth after the wedding ceremony. The DJ announced our newly wed as the newest married couple in Georgia. They entered the ballroom to loud applause here Tyler took Chizira tenderly into his arms. The couple seemed to forget everything and everyone else as locked in an embrace they swayed to the sounds of Babyface crooning 'Everytime I Close My Eyes.' After dining on chicken and a vegetarian pasta dish and vegetables, guests then joined in the fun,  dancing to a mix of oldies and R&B music provided by a DJ.
Client review | Atlanta Wedding Photographers
In reviewing our service Chizara wrote. "I would recommend Jaxon Photography,  Mr. Jackson and his team were kind, respectful, and very professional on our wedding day. The final product (pictures and album) was beautiful. We (my entire family) were so happy with our wedding photography experience, he was hired as my sister's wedding photographer."
We are delighted you chose Jaxon Photography as your team of  Atlanta wedding photographers. That we have also earned your family's trust and confidence in the process is priceless.  Thanks for the beautiful timeless images and the opportunity to photograph your lovely wedding story. It was a delight to serving you and your family and look forward to a life long relationship.
Venue – Doubletree by Hilton Atlanta-Roswell | Event Planner, Make-up, Hair – Scoobie West & Co. | Flowers – Rooms in Bloom | Dress – Winnie Couture | DJ – DJ Tron | Cakes – Publix