Kathleen and Lawrence knew that Brooklyn, NY was where they would get married. And when the found The Riviera Brooklyn, they knew that search was over. Riviera Caterers is known for it attention to detail, presentation and yes the food. At the center of the ballroom is a massive beautiful chandelier that is the focal point of the room. There is the garden, that seal the deal for our amorous couple and wedding planning went into full gear.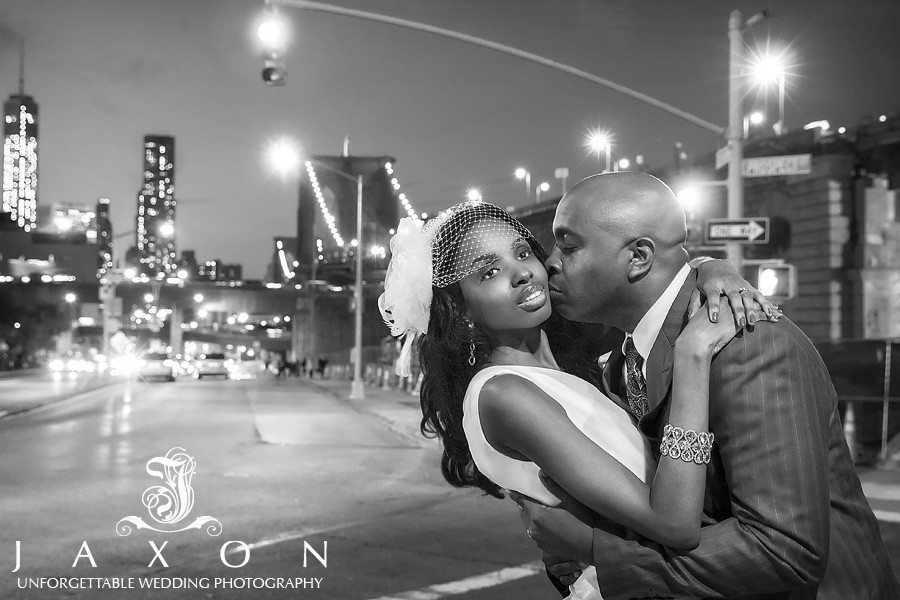 Their Riviera Brooklyn wedding story
Their first meeting was almost two decades ago, now the current DC residents and Howard alums will start their Forever at the Riviera in Brooklyn. She walked into the gardens at the Riviera for her wedding ceremony in a gorgeous one shoulder Vera Wang Mikado wedding gown. Kathleen looked absolutely stunning in this white organza fit and flair dress topped off with a birdcage veil. As she walked into the ceremony on her mother's arm Lawrence's attempt to hold back the tears simply failed. Aaron Marcellus, an American Idol finalist serenaded the couple. Now it was the bride's turn to fail at holding back the tears. In sharing his thoughts about that day, Lawrence said, "I can't get over how beautiful she looked and how graceful she walked".
The wedding reception and party
After photography in the garden, it was time for the wedding reception. The bride and groom danced to Michael Jackson's "the Lady in my life" for their first dance. The assembled guests dined on a twelve-course meal. Included seafood, meats, pasta and a variety of fruit deserts. Presented with the flare The Riviera Brooklyn is best known for. They newly wed and their guests danced late into the night to a mix of Soca/calypso, reggae and zouk, in addition to Hip Hop and R&B. We were fortunate to capture many beautiful photographs of this lovely couple on the Brooklyn Bridge and in Times Square. Thanks for your patience and we are grateful you chose Jaxon Photography for this destination wedding. To see their NYC engagement session click here.