Domonique and James Glenn Hotel Engagement Session
Domonique and James' engagement session took place at the Glenn Hotel in Atlanta. They met at a friend's birthday party and started dating five years later. After almost three years of dating, James decided his life would be incomplete without here. So, he hatched a plan to propose and here is the story from her perspective:
It was a typical Friday and James was off so he offered to take me to work. Around noon, the receptionist informed me that I had a visitor in the lobby. I figured it was James coming to take me to lunch, and I was correct. However, there was another man in the lobby standing away from James. This man was dressed up and had the biggest bouquet of flowers in his hands. I was asked to take the young man up because he was here to see my co-worker. Once up to my floor, the guy told me he was actually there for me. I was perplexed…so I looked at the guy (whom I've never seen before) and then I looked at James. The guy started singing Point of It All by Anthony Hamilton (one of my favorite songs), and I'm freaked out because I was at work and I didn't want my co-workers upset because someone was being disruptive (not knowing my boss was in on this). So, he kept singing (beautifully, I might add) and he inserted our name throughout the song. He finished the song and I was in tears because, now, I know that James was behind all this. I was still oblivious to what all this meant. My boss told me I could have the rest of the day off. Below are some of our favorites from their Glenn Hotel engagement session.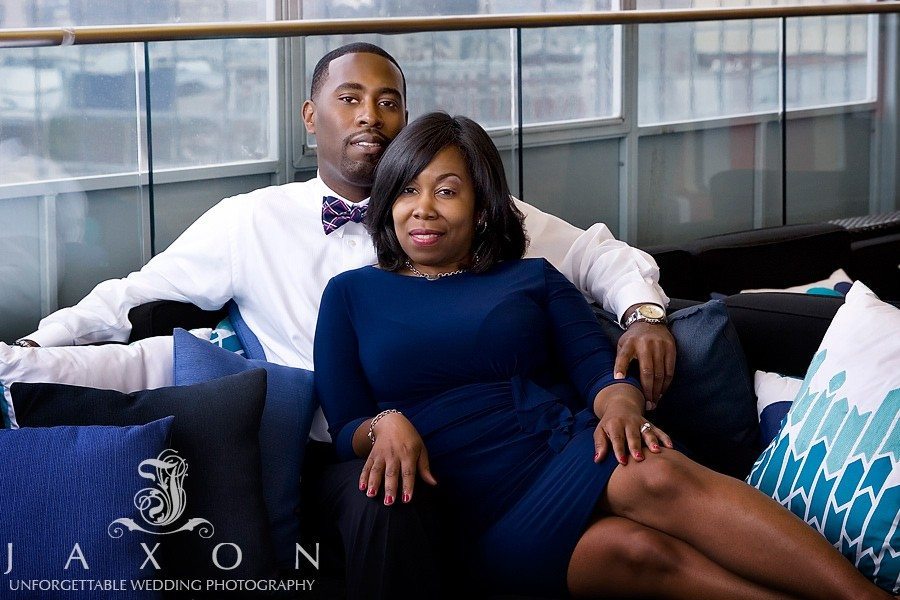 I was told we I was told we were meeting friends downtown and asked to be dressed by 5:30. We walked out the door and a limo was awaiting us. We drove into the city with Anita Baker (my favorite singer) playing in the background and pulled up to the Glenn Hotel. We got off on the 6th floor and the candle-lined walkway was covered in rose petals. It led to a room where he'd made a heart out of red rose petals and in the center was a bejeweled heart box. James asked me to open the box, and it was empty. Inscribed in the box was "Say Yes Nique"…I repeated the words out loud and when I turned around to inquire what the words meant, my Hunny was down on one knee with a beautiful ring and he asked me to be his wife. The happiest day of my life. 
Domonique and James will exchange wedding vows in Atlanta this fall, we are delighted they choose us at Jaxon Photography to capture their story.